Also known in recent times as "butt rock", post grunge makes up a variety of bands that followed the death of the grunge movement in the mid 90's. Championed by Creed's Scott Stapp and Nickelback's Chad Kroeger, the genre thrived in the mid to late 90's and pretty much all of the 2000s before finally fading into irrelevancy with the rise of the indie movement on alternative rock radio; you'll be more likely to hear Capital Cities and Imagine Dragons on the radio instead of new material from Breaking Benjamin and Nickelback. Now that this very dark part of rock music history is over, lets take a look at the worst of the worst songs that emerged in that period.
10. Seven Mary Three – Cumbersome

Okay, the song itself probably isn't terrible, and they're probably much nicer guys than, say, Wes Scantlin and Fred Durst, but the band's 1994 debut single sounds like R.E.M. clashed with Pearl Jam with standard 90's lyrics about being angry at the world. Though Bush and Collective Soul are usually considered the first post grunge bands, Seven Mary Three idles by pretty closely. So, while they're not terrible, they were the fart in the wind that started an entire genre of giant farts (specifically, Chad Kroeger's farts) in an enclosed room.
9. Three Days Grace – Riot
While not insultingly bad like some of the latter bands on this list (Nickelback), Three Days Grace tried at once to be something "heavy" while also trying to have pop appeal, and the result is something jarring, like someone threw a wet towel on the band's speakers. To their credit, they got kind of creative on their 2012 album Transit of Venus.
Then, suddenly, frontman Adam Gontier quit the band in January 2013, around the same time Stone Temple Pilots frontman Scott Weiland was fired from his band. Though Gontier cites health concerns, one might think he assumed he was worthy enough to replace Weiland and made a hasty decision to quit his band.
8. Scott Stapp – Slow Suicide
Former Creed frontman Scott Stapp takes all of the stereotypes of his old band and puts them on maximum overdrive in what is quite possibly the most overdramatic music video ever conceived. Hospital environment? Check. Biblical references? Check. Slow-mo shots of Stapp singing? Check. Its only missing a guest appearance from Chad Kroeger.
7. Shinedown – Bully
Shinedown's 2012 single, "Bully", made waves for its anti-bullying stance. Okay, good intention here, but… come on. The lyrics just don't appeal to adult fans who might enjoy Shinedown, and any middle schooler who is getting bullied will probably get his ass kicked even harder if he sang this song to his tormentors. The song was so bad that it sparked a thread on the popular forum on IGN, The Vestibule, debating whether or not Shinedown was demoted to Nickelback status. 
6. Breaking Benjamin – Diary of Jane
Kind of in a similar boat as Three Days Grace, Breaking Benjamin try to sound heavy and poppy at the same time and going in neither direction. Its not hard enough to rock out to, and its not poppy enough to… pop out to. Combine that with overdramatic lyrics that sound like they were written by a creepy obsessive teenager going through hormonal imbalances, "Diary of Jane" makes number six on the list.
5. Trapt – Headstrong
This was Trapt's one popular song, released in 2003. Watch your back. He'll take you on. He'll take on… anyone. Watch yourself. You know why? FUUUCCCKKK, BECAUSE HE'S HEADSTRONG.
[insert Chad Kroeger/Nickelback joke here]
4. Puddle of Mudd – Control
Wes Scantlin, whose vocal style is akin to Scott Stapp trying to do a Kurt Cobain impersonation, likes the way you smack his ass. He also apparently likes lip synching nowadays, when he's not in jail for one reason or another. At least he doesn't sound much like Chad Kroeger.
3. Nickelback – S.E.X. 
Nickelback frontman Chad Kroeger's continues to show his brilliant skills as a lyricist with lines like "I'm loving what you wanna wear, I wonder what's up under there? Wonder if I'll ever have it under my tongue?"and "No is a dirty word". In the past, Chad Kroeger has referred to himself as a "walking penis" and bragged about how he put his own penis on his mouth. Keep in mind this a guy who looks like Nicolas Cage crossed with Fabio.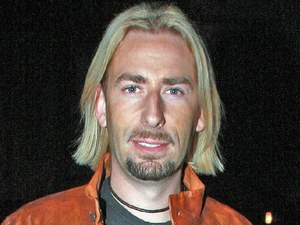 2. Theory of a Deadman – Bad Girlfriend
The braindead child of STP's "Dead and Bloated" and The Cult's "Fire Woman", "Bad Girlfriend" is like an 80's cock rock song without any subtlety whatsoever. It is essentially frontman Tyler Connolly impersonating Chad Kroeger and grunting about how hot his girlfriend is and that everyone should be jealous. He also makes obligatory dudebro references to partying, taking shots, being stoned, and spanking asses . You know when a song starts off with "My girlfriend's a dick magnet", you're in for a douchey ride.
1. My Darkest Days – Porn Star Dancing
A band discovered and signed by Chad Kroeger, My Darkest Days' first single, "Porn Star Dancing", pretty much embodied every single stereotype about the genre, from its degrading lyrics about women, grunting machismo, a music video filled with strippers, and a guest appearance from… Chad Kroeger. The song was arguably the last popular post-grunge era song before Mumford & Sons and Imagine Dragons took over mainstream rock radio for some reason.
Its also worth noting that the first single from the band's second album, "Casual Sex" (how edgy guys), featured a music video filled with so much unnecessary female nudity that frontman Matt Walst's girlfriend left him. Walst is now busy singing with Three Days Grace since former frontman Adam Gontier suddenly quit the band.
Special thanks to Austin Eddington, "Birdman" Dan Segal, and Anthony Carioscia for their assistance in compiling this list.